Looking for a window cleaner? Whilst the process for cleaning windows is relatively straightforward, time-served experience is pivotal when being faced with varying challenges when dealing in the window cleaning trade.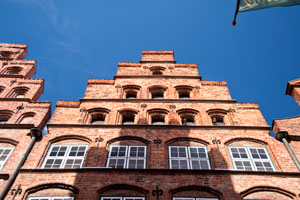 Cleaning windows is easy, right? Well there is much more theory to this process than meets the eye. Today's tools and know-how means that window cleaners can often make the process look simpler than it is.
There are different product formulations that help the cleaning process and may ensure the gleamingly clean results that we achieve, without exception. We have devised many techniques that have enable us to build up a reputable local reputation with our many returning customers.
Here is some information that may help you to understand the intricacies of window cleaning:
Q: Can you use a squeegee to clean a window that has a lead pattern on it?
A: No; it is advisable to use a microfiber cloth to rub over the glass to dry the water and cleaning solution. It may be that this process takes slightly longer than cleaning normal glass; but it is well worth the effort to achieve the best results.
Our TOP TIP: be careful when cleaning lead windows as the lead work can be delicate and it is important not to apply too much pressure that will dislodge the piping.
Q: Should you clean the top floor windows before cleaning the ground floor ones?
A: It is often recommended that you clean the top floor windows first. This ensures that any water that may drip down from the higher floors can be cleaned off, without doubling up on work.
Our TOP TIP: it may seem obvious but always work your way down. This plays an important role in a few aspects of window cleaning. Top windows should be cleaned first and when squeegeeing you should always start at the top of the window too.
A First-Class Window Cleaner:
If you would like to enquire about our window cleaning services please call today on 01296 294304.